Chief's Blog From Years Gone By . . .
(back to Current)
Love to relive the past? Well you can do so with the Blogs of 2017 and previous years.
2019
August 28, 2019


Looong overdue update on the 2019 Seaside Games as in WHY SHOULD I ATTEND THIS YEAR? Well, I'll tell you why in a word: SEVEN NATIONS! OK, that's two words, BUT they are important words if you like good music. Here's a little of what the SEVEN NATIONS' bio says about them:

The story of SEVEN NATIONS is that of a truly original and determined band based in Orlando, Florida. They have for years booked their own tours, have their own PBS and CNN specials, and use bagpipes the way Jimmy Page uses his guitar. Throw away any preconceived notions you may have about kilts and Celtic music; this is a band that has invented its own sound and attracted a prodigious national and international following. Through its dynamic live performances, SEVEN NATIONS has become one of the fastest growing live acts nationwide, melding piano, guitar and vocal elements of American pop and rock with Highland bagpipes and fiddle. The result is a high-energy performance that has fans jumping out of their seats, and has sparked interest industry-wide. SEVEN NATIONS has created a truly hybrid sound and transient live show. The depth and complexity of SEVEN NATIONS? music is astounding, each listen reveals a deeper layer of intricacy that has been embraced by an ever growing audience. "We are lucky," says Kirk McLeod, lead singer/songwriter and founding member of the band, "because we come from two unique cultures. We love American pop and rock and roll, but we also love our Celtic roots. We want to touch everybody with our music," he continues, "and so far, we have been very, very fortunate."

So, yes, we are very fortunate to present this fine band for your enjoyment this year, as well as other excellent entertainers including your favorites SLIGO RAGS fresh from their many appearances at the DISNEY Entertainment Parks. If SEVEN NATIONS can blend rock & roll with Celtic, then SLIGO RAGS can easily meld Celtic and Cajun music into a very pleasant mix!

And, if you had to extract the heart of the band HIGHLAND WAY, you would surely have superb lead singer Brian Caldwell and fine fiddler Paul Graham Castellanos which is exactly what Pam has done! Look for these two holding forth on the Alex Beaton Stage with Sligo Rags all weekend.

So much other fine entertainment from the new to the tried and true! Come and enjoy!!

pipes and drums, fifes and drums, athletes, food and bev (oh yes, there WILL be haggis on hand) and those adorable herding dogs will amaze and amuse once again! Much more! Make sure to come on out. October 12 & 13 on the Ventura County Fairgrounds. www.seaside-games.com

Aye,




John
2018
August 28, 2018


The Seaside Games are not strangers to having some very special guests in attendance. Last year, you will recall, included a couple of excellent Clan Chiefs--Donald MacLaren of MacLaren, Chief of Clan MacLaren, and until recently Convenor of the Standing Council of Scottish Chiefs, and Dr. John Ruairidh Morrison, Chief of Clan Morrison. Dr. Morrison's brother, Andrew W. R. Morrison (known in his official capacity as Viscount Dunrossil) also attended. Viscount Dunrossil is Chairman of the Society of Scottish Armigers, no less! They were all very well received.

Well, this year will be no exception. Through the efforts of the St. Andrew's Society of Los Angeles and their President, Ian J. Skone-Rees (the St. Andrew's Society have recently become very large and very special sponsors of the Seaside Games, by the way), this year's attendees will include the Scottish Counsellor for North America, Ms Joni Smith and two of her colleagues. Ms Smith is headquartered in Washington D.C. and, it seems, is most eager to establish a good working relationship with us western types! Please drop by and say hello at any of the weekend events beginning with Friday's Whisky Tasting and A Scottish Evening events and right through Saturday and Sunday on the Fairgrounds.


Thanks and see you in October!

Aye,




John
(Top)
July 1, 2018


Is it JULY already? Yep, and we are a short three months from this year's Seaside Games. Never fear, however--plans are underway and have been for several months and the Games this October 13 & 14 are expected to be the best ever! Count on it!

But wait, you say--didn't I hear that you and Miss Nellie had retired? You heard correctly. Nellie and I presented our resignations to the Board of Directors at the Seaside AGM back in March and they were accepted. The Board accepted them. And they immediately elected new officers to run the Games--with the proviso, however, that I retain the title of Chief and that Nellie continue as Treasurer for the immediate future. Mine is a bit of an honorary title but Nellie's Treasurer's job is very large and complex and not just something to hand off and step aside! It will take a very special someone--or several someones--to take over all those complicated duties she currently balances. So . . . who runs the Games now, you ask? Fair question, so here they are:

The new President is our son Bill Lowry (CEO), George Mitchell is Vice President and our daughter Pamela Lowry-Marbell wears a number of hats and, I believe, fills the role of COO. Linda Graham will continue as Secretary to the Board. You may have heard that our legal counselor Bob Ferguson tragically passed away this spring. So, as you can see, we are in the market for a couple of highly talented people--one (or more) to fill the Treasurer's position and a fine legal mind to serve as our Games attorney. . . . pro bono! The pro bono is very important as we have zero budget to set aside as a retainer for this legal eagle (and we, honestly, have very little call on such person). Bob and I consulted by phone on a couple of occasions in the years he filled the position. So let us know if you have some likely prospects to fill these important shoes.

A point here is that the Seaside Highland Games are NOT a Lowry Family enterprise. Anyone could have been elected to these positions but the names you see above were chosen because of their interest and dedication toward seeing the Games continue to succeed and go forward.

Pam has worked very hard this spring to bring together the very best bands and entertainers for your enjoyment on our four stages. Check elsewhere in this website to see exactly who will be joining us this year. The US Marine Band will, sadly, not be among them. Costs, complications and band calendar assignments have made a Seaside visit impossible. But, there will be good music galore and enough kilts to sink the Titanic (if that was not already accomplished, that is)!

Of course, Friday's activities will kick off the weekend in fine style. Our THREE Scotch Malt Whisky suppliers are eager to pour the drams at our 5 PM Whisky Tasting. Make sure you order your tickets or plan to pick them up at the door--either way will work! Then, the Grand "A Scottish Evening" affair will dazzle you with good food, music and our unique Scottish Fashion Show. Our young and not-so-young models will show off the latest tartan creations, many of which can be purchased from our Vendors over the weekend. These very select Vendors always surprise us with new and creative items they bring for you to see. . . . and to take home!

The athletes, the dancers and the many Clans and Societies will all be vying for your attention. Maybe attending both Saturday and Sunday is the only way to pack it all in! Saturday's Opening Ceremonies and Grand Parade is a dazzling show in itself. And the closings on both days are special and emotional as prizes and trophies are awarded.

Tickets and Sponsor Forms are, likewise, available here as well. Prices are the same as they have been--for now--so make your plans to join us in October! Haste ye noo!!


Aye,

John
2017
October 3, 2017


Nellie and I drove over yesterday and picked up the most beautiful Festival t-shirt you ever saw! This year's Seaside shirt is just awesome! A design you will recognize as the "Official Coat of Arms" of the Seaside Games and yet different in so many ways that it literally sparkles. Some mysterious inner glow that I can't explain . . . . Am I confusing you? Don't worry--you'll see soon enough for yourself that I'm correct and not just mouthing Hebridean myths! LOL!!

So much multi-media advertising is in place that you should begin seeing some no matter where you live! Radio, TV, newspapers and periodicals of all stripes and locales! And if you don't see them, just talk them up to your friends and family by referring them to this beautiful website (thank you, Webmaster Mike!) and any of the great flyers we have spread throughout the County!

Our Beer Sampling venue is assured, thanks to the hard work of so many but mainly Rick LaVallee who is a Games workhorse! And Firestone Walker's fine ales are the latest addition to the growing lineup that you may sample!

Details of our beautiful Opening Ceremonies and Grand Parade are all in place and you will not want to miss this weekend kickoff that takes place at NOON on Saturday. So much more in each and every venue! Come on out and enjoy the great efforts of our wonderful volunteer crew! You won't be sorry!

John & Nellie



September 1, 2017


September? Already?? Then it is definitely time for an update. This year's Seaside Games are shaping up quite nicely. Not without a few glitches for sure but, considering a few jarring jolts of reality, I'd say we have landed on our feet and are moving forward somewhat unscathed! What are those jarring jolts you might ask? Well, the first and what we thought would be our biggest awakening announcement was the notice received from prime entertainment band Celtic Spring that they are retiring (have retired by now) and won't be at Seaside this October. OK, we had them for fourteen straight years, the family is growing up and moving on so we shouldn't be surprised, should we? And the hollow answerback is yes, but . . . we want MORE!!

Fear not, says the white-headed guru of Gamesdom - there's more where they came from. And, lo and behold, he's right! Because, you see, the Celtic Spring family - the Wood family headquartered in Ojai - have grown up and multiplied and splintered into several performance groups all vying to be as good as the original. And it is happening! Bows and Toes is one. Hidden Fifth is another. Three For Joy is yet another from the same family roots (cousins) and they will ALL take their place on the still so named Celtic Spring Stage! And,I will say with authority, you will NOT be disappointed by any!!

Well, we survived that disaster, did we not, and there couldn't be anything else lurking about to bite us where it hurts . . . could there?! No, until Nellie came rushing in with a letter from the UNITED STATES MARINES stating that, due to a heightened state of readiness of our armed forces, the 3D Marine Aircraft Wing Band will be unable to travel to Seaside this October. Crushed? You want to see crushed?? That could describe the rest of our morning that particular day. But no one aspect of the Games is irreplaceable. Of course we want to support our armed forces in their sworn duty to defend our interests and our country and we will miss "our" Marines dearly. Until another day when peace prevails . . . . Replacing a quality ensemble such as a Marine band is no picnic but things are coming together and we expect to have total good news to reveal to you by my next report.
The very special Chief's Dinner being held Saturday night in the Harbor View Room atop the Crowne Plaza Hotel is coming together beautifully and you are ALL invited to attend! Just click on the Advanced Tickets form on the Forms Page elsewhere on this website and order your tickets - and do it today - they are selling out quickly!

All venues of this year's Games are expecting record numbers so please don't miss any aspect over the two days of nonstop entertainment. We look forward to seeing and greeting each of you on our weekend in October! Thanks for reading this blog bit!


John & Nellie


March 22, 2017




Question: When is a Scot NOT a Scot? Answer: NEVER! A Scot is ALWAYS a Scot!!

OK, the one exception might be when he/she is participating in the Ventura St. Patrick's Parade . . . as we did with an amazing crew on Saturday, March 11, 2017 . . . and it totally paid off when we were named the "MOST IRISH" entry of the entire Parade!! Yes, we were considered the most Irish of the 80+ Parade entries this year (and this follows the honors of being named the BEST ENTRY of ALL in the 2016 Parade)! Perhaps our colorful kilts fooled them? Or maybe the beautiful Highland Dancers' dresses? Maybe Piper Steve Busch's beautiful bagpiping? Perhaps our excellent Ventura Celtic Players riding and playing aboard Doug Ingram's fine truck and trailer aka float? Donna Ingram's magical transformation of that trai . . . er, that is, Float was worthy of a first class prize for certain! It must have been the Mighty 805 Highland Heavies -- the big Scottish Athletes who so faithfully and personally passed Games cards to Parade Viewers all down the Parade route.
"
I KNOW it was clearly NOT the Chief riding in Mike McChesney's Kelly Green Alfa Romeo "Pace Car," driven so carefully and cleverly by Games Car Guy Paul Keener. Of course we DID have the Games Princess and her Consort riding high and waving to the throngs . . . .

OR, just maybe it was ALL of these elements rolled into one grand Seaside Games Parade Entry -- the largest conglomeration we have ever had for this Parade -- in the fifteen previous years! Rick LaVallee brought more athletes out to help and the result was this mighty collection of volunteers helping for these few hours to show Ventura County that we have an event every October worthy of their time and trouble to see and enjoy! We want to express our gratitude for all who participated and made this a successful Parade entry. Seaside is a welcome factor in Ventura, being the Number 2 Fairgrounds event after the Fair itself! And we all contribute to help keep it that way. Thanks, All. You deserve a little break now - at least until the Great Fourth of July Street Fair! We want you ALL back and raring to go for that fun time! Thanks and we love you every one.

John & Nellie

January 23, 2017

Here it is, 2017 already! Seems like we just met on the fields of Ventura to compete, eat, listen to music and just enjoy the famous Scottish hospitality known as the Seaside Highland Games.

We do hope to see you at our 2017 SEASIDE HIGHLAND GAMES October 14 & 15, 2017

Seaside Games organizers have always felt that the backbone of these, and any successful Scottish Festival, is the relationship with the Clans and Clan Societies. That was made abundantly clear when these Games were started fifteen years ago and remains a reality today. Seaside's "Clan Row" (aka Main Street on the Ventura County Fairgrounds), spread a full quarter mile from front to back is packed with the Clan and Organization encampments eager to welcome and to fête Games visitors with their own special brand of hospitality.


Bringing so many Clan contingencies to this special place on the Central Coast was a concern because so few were familiar with our beautiful Buenaventura environs. So, to ease these newbies into the Ventura County beach culture and to not simply turn them loose to forage for food on Friday's arrival, Organizers set up an all-Clan dinner and entertainment called "A Scottish Evening." A Scottish Evening consists of a fine buffet supper, live music by some of the weekend's entertainers and a Scottish Fashion Show. The Clans - and many locals as well - took to it as an absolute tradition and, although it was intended to simply be an "ice-breaker" for the first couple of years, shows no signs of fading, lo, these fifteen years later!

The friendly Seaside atmosphere starting on Friday and continuing throughout the weekend has brought a number of Clan Gatherings and Annual Meetings to our shores over the years. We have hosted Clan Officers and Boards and Clan Chiefs from here and abroad to grace the Games with their presence and to feel totally comfortable in doing so.

BUT, at no past Festival have we been blessed with the abundance being promised at these 2017 Games where no less than FOUR Clan Societies have promised their presence for annual AGM gatherings. Representatives of the Campbells, the MacLarens, Morrisons and Clan Ross are in negotiation to have their members attend and hold important business sessions at Seaside - and at least two of these Clans are bringing their Chief as a special guest of the Games! These dignitaries will take part in the Opening Ceremonies and Grand Parade and be celebrated in special Clan functions as well as an All-Clan Dinner being planned where ALL can take part in a "Meet and Greet" time--a time you'll not want to miss! This special event will be on Saturday evening of the Games in the magnificent Harbor View Room atop the Crowne Plaza Hotel. Don't miss it!

Look for further information here on the Seaside Games website (www.seaside-games.com) and on handouts throughout the coming months. Make plans to join in the fun and frivolity as well as the more dignified (but still enjoyable) Clan Society functions around the fairgrounds and throughout our wonderful town.

For more information watch the website or call John & Nellie @ 818-886-4968. See you in October!

Thanks and see you soon in Ventura...

Aye,
John
2016
August 18, 2016

Many of you received Alex Beaton's "On the Beaton Path" newsletter directly but here it is for all to enjoy. Alex seems to be doing well and survived the trip to Costa Mesa in great style. Not that the chair is going anywhere soon.... Please continue to keep him and Linda in your thoughts and prayers....AND Alex would want me to encourage you to buy a few more CDs and DVDs! Every life needs music!!

Thanks and see you soon in Ventura...

Aye,
John
Dear Friends,
It's seems to be a trait of mine that I'm always late in getting the "Beaton Path" newsletter out. Such is the case for this edition. It was Memorial Day Weekend, over two months ago, that I'm reporting on. This was my first trip by air since my accident five years ago, not a short one-hour drive, but a four-hour flight to California. The Scottish Fest at Orange County Fairgrounds in Costa Mesa (Great Los Angeles area) is my flagship Highland games where I started performing thirty-six years ago. Needless to say, it was a very emotional experience with many friends and fans there to greet me. Linda and I took along our young, student nurse/caregiver, Ashley Probst, to help us out. She was marvelous; we couldn't have done it without her!
On Saturday we arrived at our parking location in the Fairgrounds and during the short 150 yard trip to my Sales Booth we were stopped countless times by folks who'd been waiting to speak with me. A short time later, the Opening Ceremonies were held in the Main Arena where I was introduced by the Chieftain, Tom Reoch, as the Honorary Chieftain. I had prepared a speech that was expected to last for approximately eight minutes, but was asked by Tom the day before to limit my comments to two-three minutes. I conveyed this information to the crowd and took advantage of the time afforded to me to announce that my "CDs were available for sale at my booth directly outside of the Main Arena". This was "vintage" Beaton hawking his wares and was met with both laughter and clapping.
Following the Opening Ceremonies, there was a rededication of the "Alex Beaton" Stage. The first dedication took place in 2012, but I was unable to attend due to health reasons, so Tom wanted to rededicate while I was there. Bad Haggis with Eric Rigler was on stage performing prior to the Ceremony. Eric, a close friend of mine, played the Uilleann (elbow) pipes for "Braveheart", "Titanic", "Avatar" and many other feature films and TV shows (The Outlander). As the "Titanic" is one of Ashley's favorite films, I asked Eric to perform the theme song and dedicate it to her. She was very moved. He also was asked by Tom to speak a few words during the Rededication and his words meant so much to me.
The entire weekend was successful and the crowning glory is that I returned to St. Louis with no ill effects from my journey. If health permits, this means that I am able to make similar journeys in the future.
Photos of our trip are in a gallery at
Costa Mess Scottish Fest
- 2016. You can see some of them on my
Facebook page
.
I sold out of my CDs and DVDs that I took to these Games! Please note that my CDs & DVDs will, again, be for sale at Pleasanton
(http://www.thescottishgames.com)
, Estes Park
(http://www.scotfest.com)
and Stone Mountain
(http://www.smhg.org)
and Seaside
(http://www.seaside-games.com)
. As a reminder, some of my CDs are sold out and are only available for download from my website
(www.alexbeaton.com)
.
Linda has been instrumental in helping to keep Glenfinnan Music going; she's my partner here and in life. Linda has, and continues to be a wonderful, loving and caring wife. As you can imagine, it's now been five years since my injury and she has had to deal with so many issues to keep me alive and strong - some issues known to only a few. I would not have been able to make the trip to California if it wasn't for "my Linda". In spite of the fact that I drove her and Ashley nuts with worry about getting a pressure ulcer, she was determined that I stay healthy so I could make the trip.
On a sad note, I'm still alive ... (oops, Linda asked me to add this comment).
Seriously though, I share with you our sadness over the passing of two close friends, Karen Glasser and J.T. McPherson. I've known Karen since 1992, having been introduced to her by her long-time partner, Chris Chesser and saw her frequently as we lived close to one another during the time I lived in L.A. She was in the film business and, at the time Braveheart was made, worked for Mel Gibson's ICON Productions. Throughout the time I knew her, Karen was kind, enormously generous of her time and attention to all who knew her and a strong advocate for animal rights. J.T. McPherson was one of the most unique individuals I have ever met in my life. There is so much that can be said of this man, from his unusual diet to his tempting powerful, distilled, peach-flavored drink; from his distinctly Southern accent to his great love of his beautiful family and his Scottish roots. They will be sadly missed.
In closing, I'm hoping that you aren't experiencing misfortune with weather related storms and tornadoes. Given with what is happening across the country, we have little to complain about with our excessive heat and humidity here in St. Louis. Wishing you all good health and happiness and an enjoyable summer!
I expect to have another "Beaton Path" newsletter out in the near future; however, don't hold your breath.
Love,
Alex
PS: I will not be attending the St. Louis Highland Games this September 24 as Linda and I planned to be out of town that weekend.
Live in Concert
was recorded in Costa Mesa, California with my good friends, Alasdair Fraser and Eric Rigler. Alasdair is a master Scottish fiddler widely known in Europe, Britain, Canada and the United States. Eric is the world's most recorded piper, playing for many movies, TV shows, concerts and albums for famous recording artists.
BUY IT
! There is nothing else like it.
As a reminder, some of my CD's are sold out and only available to download on my website at
alexbeaton.com
. The website will also show the CD's that are
available for purchase
.
If you're looking to make a wise investment, may I recommend
Beaton's Personal Favorites
, a two-disc set with 30 songs?
June 1, 2016
They're coming back! The 3D Marine Aircraft Wing Band out of NCAS Miramar in San Diego is returning to Seaside this October....for BOTH days!
A "courtesy letter" was received this morning indicating their acceptance of our invitation. We have been working on this for many weeks and, most recently with Major Brooks Wilson, USMC Ret., who has arranged for the same band to play at Pleasanton for many years. Thank you Brooks!

Now, we will begin the long list of necessary duties to make their stay as comfortable...and as useful to us...as possible! Donna, we will definitely plan that Saturday evening ceilidh at the Four Points that we have long hoped to repeat and to grow! We know what this particular band can do and how much fun they can be when they let their "hair" (what little they are allowed to have) down! They have a dance band that will knock your socks off!!

Nellie is already working on lodging and, Shannan, you and your crew can tackle the huge job of feeding these 45 hungry mouths for two days!

We are so grateful for the many Sponsors who, in a show of great faith, have earmarked meaningful dollars to help offset the cost of the band's visit. It is a sizeable sum that we are happy to cover just to have the Marines back among us once more!

Contact us with any questions or suggestions and certainly with ways to further finance this endeavor. . . .

Yours aye and OO-RAH!

John
March 16, 2016
Saturday, March 12 was a GREEN LETTER DAY for the Seaside Highland Games! We always participate in the Annual St. Patrick's Day Parade hosted by Ventura County BPOE Elk's Lodge #1430 and have done for the past fifteen years. GREEN because of our people's hard work finally recognized by the Parade Committee.

Just to name a few: Donna Ingram who has so selflessly worked to decorate (disguise?) her son's work trailer transforming it into our beautiful Parade Float to carry princes and princesses, musicians and, this year, a complete band playing a wide variety of Scots and Gaelic tunes for parade watchers along Main Street. The decor belies the rustic (ok, rusty) hulk lurking beneath but we DO thank Doug Ingram for generously sharing his work truck and trailer.


Rick LaVallee, our Athletic Director and all-around MVP for rounding up athletes and dancers to march, carry the banner and hand out tons of Games flyers and magnets! Rick is also Games Mascot Angus's best friend and traveling buddy. Angus could not make the Parade this year but said that he would see everyone on the field in October!

Many others gave up their Saturday--parents, families and loved-ones--to help and we thank them every one.

Then, the TOPPER was receiving our winnings at the Ventura City Council Meeting on Monday, March 14 where we won the trophy for Best Nonprofit entry in the Parade AND the BEST overall entry -- The ARNOLD HUBBARD MEMORIAL TROPHY, the TOP Honor for all one hundred plus Parade entries! We were humbled and so pleased to have our efforts recognized in this way!

So, thanks to ALL and let's just keep up the great work and look forward to doing it all again next year!!

jel
January 1, 2016
We are so pleased to report that Eric Rigler will be returning to the Seaside Highland Games in 2016 with a beautifully new and refreshing sound. Completely Celtic--except for some of the many movie soundtracks he has recorded over the years--Eric has partnered with his guitar playing buddy Dirk Freymuth to create a sound totally unique to your ears and yet as familiar as old kilt sox! ERIC RIGLER ● DIRK FREYMUTH | Bagpipes, Whistles & Guitar. . . from Celtic to Film Music & Beyond | Home The boys have established this website for you to see and access the first CD they have made together entitled "Belgrove Road" (a location dear to Dirk's Ireland experience of a few years back)! Very listenable with just a hint of insight into what you will hear when they take the stage--the center Alex Beaton Stage--at Seaside next October. Paired with the always enjoyable Browne Sisters and George Cavanaugh, be sure to seek out Eric & Dirk's performances twice each afternoon of the 2016 Games.

-- John





If you'd like to
you can see my rantings from previous years. I've begun keeping them for posterity and to revisit them as we move forward in our efforts.
Until we meet again on the fields of Ventura, California,
2015
December 1, 2015
To help inaugurate the new-look SHG website (thank you so much Webmaster Mike McChesney), we decided to reveal the following exciting 2016 entertainment note at this early date:

We are so pleased to report that Eric Rigler will be returning to the Seaside Highland Games in 2016 with a beautifully new and refreshing sound. Completely Celtic--except for some of the many movie soundtracks he has recorded over the years--Eric has partnered with his guitar playing buddy Dirk Freymuth to create a sound totally unique to your ears and yet as familiar as old kilt sox! ERIC RIGLER ● DIRK FREYMUTH | Bagpipes, Whistles & Guitar. . . from Celtic to Film Music & Beyond | Home The boys have established this website for you to see and access the first CD they have made together entitled "Belgrove Road" (a location dear to Dirk's Ireland experience of a few years back)! Very listenable with just a hint of insight into what you will hear when they take the stage--the center Alex Beaton Stage--at Seaside next October. Paired with the always enjoyable Browne Sisters and George Cavanaugh, be sure to seek out Eric & Dirk's performances twice each afternoon of the 2016 Games.

-- John
September 25, 2015
OK, Mike's (our wonderful Webmaster Michael McChesney) "infernal doomsday clock" says there are just two weeks until the Games and I believe him. It's just that more time might be better. BUT, an amazing Festival is about to be sprung and we hope to see you all there! If the Chamber of Commerce trade show we attended at the Four Points last night is any indication, the whole of Ventura County is coming and that will be wonderful!

Rick LaVallee, our Seaside Roving Ambassador and Heavy Athletics Guru, is truly roving the city with his big buddy, Angus, a fiberglass Scotsman (you have to see Angus to believe him) and having Angus "pose" for pics, and, OK, some selfies, with local citizens. Seaside Games Supporters have first choice but Angus is no respecter of persons! Give, pose and give some more! If you miss them, don't worr -- they will BOTH be on the Field for the Festival.

We are so excited with the entertainment lineup that we can hardly believe our good fortune at having these people! The Tannahill Weavers have been in touch and are very much looking forward to their gigs at Seaside! The Tannies are a true iconic band direct from Scotland and as authentic as you can get! Margie Butler and her Golden Bough trio will complement the Tannies on the Alex Beaton Stage. Of course, Celtic Spring continues to have their very own stage in Vendor Hall (Celtic Shoppe) #1 and hosts a myriad of friends as time permits.

NOW, are you ready?? The Celtic Rock Stage back near the Heavy Athletics in Morgan Arena (and beer booth #2) is about to come alive as never before! Perennial favorites The Angry Brians (we used to call them 1916 but that number was taken) and old friend Brian Caldwell and Highland Way (this Brian is NOT an Angry Brian) plan to rock that stage as never before! I just hope you don't scare the livestock!

Didn't I tell you? We will have Tooti Bevill bringing her beautiful Highland Cows back again this year and, for the first time . . . and we hope not the last . . . old friend Fritz Bronner is bringing a couple of his Scots Greys horses for all to see and enjoy! Our four-footed friends will be very much in evidence this year!

Wait -- one more! Old Pro Ted Ondrak will be taking on the Herding Dog Demonstrations after Sara Goodman's recent retirement (thanks, Sara, for all the good years you entertained our guests). Ted has been training and showing dogs (and judging and demoing) for a very long while and is about the best there is!

Oh, don't worry, the Beard Contest will still be held. Look for us at the Celtic Rock Stage at 2:30 pm BOTH Saturday and Sunday. Prizes for facial hair galore--don't miss it! And, yes, last year's Haggis Eating Contest will return Saturday ONLY at 3:15 pm on the Lunch Court. Drop by to enjoy the show or, better yet, plan to sit in and enjoy some of Charlie Lamb's luscious and authentic HAGGIS!!

Another amazing show will be Celtic Celebrity Chef whipping up some of your faves inside Celtic Shoppe #2 and offering free tastes of what he cooks! He will give a running commentary as he cooks, weaving in Celtic history and yarns as well as great cooking tips for you to take home. A wonderful line of cookbooks will also be available.

You know what a didgeridoo is but do you know about Didgeridoonas?? A great new vendor is bringing a line of wonderful carrying bags all the way from Australia which seem impervious to heat or cold. They simply do what you tell them to do -- and do it very well. Made of Australian wool, heavy oiled cloth and leather, you will want to peruse this fine line of quality products. Hey, Christmas is just around the corner! That goes for about all of our fine vendors. Buy and then give -- in the Spirit of the Season.

You know the other wonderful attractions you'll find on the Field. The new and unusual needed a little push and this is it! Two weeks!! Wow. We will be there, ready willing and pretty much able. Do your part and we look forward to a meet and greet with one and ALL!! See you soon. . . .

john


May 12, 2015
Yes, it is more than time for a little update on the 2015 Seaside Games progress. While decisions are made every day and we move toward our best ever "Lucky 13th Festival" you need to know what's in store as you talk to friends and acquaintances about attending this year. First, the entertainment stages will be filled with some of the best bands around. Scotland's finest traditional band and Hall of Fame members, The Tannahill Weavers, will enthrall you from the Alex Beaton Stage along with Margie Butler and her great Golden Bough trio. You may not want to leave that place but how about a taste of Celtic Rock on that stage with The Angry Brians (formerly 1916) and another Brian, Brian Caldwell and Highland Way! Great music setting a mood for movin'! Meanwhile, please don't forget our beautiful and dedicated family band, Celtic Spring on their very own indoor stage. They graciously share with other musicians including family spinoffs, Hidden Fifth and "Bows & Toes."

Other subtle enrichments made to the Games - and we expect to continue - include the Scottish Fiddle Competition (the only one on the West Coast), the very popular Drum Major Competition, the Athletic Sheaf Toss (which we introduced on the West Coast and others have followed suit), the Pavilion Stage for start-up and younger musicians to perform for exposure only, the HAGGIS EATING CONTEST inaugurated last year and now, are you ready - a BEARD CONTEST! Yes, it's time has come!

Let me explain. One of our latest Seaside Games Vendors (and we have a bevy of unique and specialty Vendors every year) is a Vendor of Beard and Facial Hair products called ScotsmanUSA grooming products. We have lots of fellows - OK, mostly fellows but all comers welcome - sporting shaggy faces. Since the Vendor will be there, why not add a little light-hearted competition to that already rich Scottish tradition of showing your hirsuted countenance (OK, fuzzy face) and see if you can win a prize (as yet TBD)?! Stay tuned, we'll be back!

Finally, the "Lucky 13" idea. Some say the 13th of anything is bad luck. We do NOT agree! There was one Friday the 13th unlucky for the Knights Templar in the year 1307 but that will not faze us in going forward! We will not allow triskaidekaphobia (the fear of the number thirteen) to interfere with the great event we have planned! Go for it and we will be back shortly with another episode of "What have you done for Scotland lately?" Cheers . . . .


John


January 13, 2015
Children, these are tough times on the Scottish Festival circuit. This morning was news of a large Tartan Day Festival cancellation and now the Houston Celtic Festival and Highland Games has called a hiatus to their 2015 event. Well, we want to very positively state that THERE WILL BE A SEASIDE HIGHLAND GAMES IN OCTOBER 2015 and the DATES ARE OCTOBER 10 & 11. We are so fortunate to be making this announcement and so pleased to know that you all care enough to continue supporting the massive effort we began at the turn of the century!

Not only that, but we already have some exciting news on our entertainment stages: The fine Bakersfield-based Celtic Rock Band 1916 will be back to anchor our Celtic Rock Stage! How apropos is that?! And, perhaps even bigger news is that the long time traditional Scottish group the Tannahill Weavers will travel to Ventura from their Scotland home to hold forth on the Alex Beaton Stage! Founded over forty years ago in Paisley, Scotland, today's members include Roy Gullane, Phil Smille, John Martin and Colin Melville and they carry on the tradition in fine style! They will share that stage with good friend, Margie Butler and her band, Golden Bough!

Just to let you know that the wheels are turning and we are working hard for you!! Stay tuned for more news very soon.


John


November 30, 2014
Never taking the planning of the next Seaside Highland Games for granted and always aware that challenges and pitfalls can come our way, we began the process of pulling together the pieces of this 2014 Festival perhaps earlier than usual. Coming off of a highly successful 2013 event, the handwriting was on the wall that there would be some trying times ahead. Our 2013 Director of Athletics Ryan Seckman had already advised us that he could not return - that he and his family would be moving from their Arizona home to a new home and a new job on the East Coast. This would be a blow because Ryan had staged probably the best Heavy Athletics show in our history the previous year. Where would we be and where would we look for that quality leadership?

The SAAA (Scottish American Athletic Association), of course. Leadership of that organization had been taken on by a whole new regime and President Chuck McClain proved to be a great guy to work with. So, as Ryan's methods were brought forward by Chuck and his crew (and overseen by OUR Seaside Director of Athletics Rick LaVallee), the Athletic show this year at Seaside was a huge success for athlete and viewer alike.

Entertainers to fill our stages was never a problem and the three professional stages - the Alex Beaton, Celtic Rock and Celtic Spring Stages - were all soon booked to capacity. Or so we thought. The Browne Sisters and George Cavanaugh are so steadfast and reliable on the Alex Beaton Stage and understand our every-other-year rotation system. Nellie had made contact with old friends, Men of Worth at the San Diego Games that prior spring and they were, amazingly, available on our weekend. Quickly signing this popular duo, that one stage was booked! It could go without saying that we had been receiving a barrage of requests to book a band from Bakersfield called simply "1916". Now, wanting to keep the Celtic but heavily Scottish Celtic influence to our musical entertainment, and after resisting quite awhile, we finally relented and asked Talent Agent Brian Tower to bring his pride and joy to Ventura! And, a partner band to 1916 had to be an equally lively and loud (and entertaining) band which turned out to be our good friends, The Ploughboys, the house band of our favorite LA Scottish restaurant, the Tam O'Shanter Inn. Perfect. This is coming together like good cake. But . . . .

In mid-February - still early in the planning stages - an email from Mary Wood, mother of the Celtic Spring performing family, informed us of son Patrick's wedding which was now planned for October 11, our Seaside Saturday - in Massachusetts - of all places! We talked and sane heads prevailed and Patrick and his young lady were married in July to everyone's satisfaction and the Celtic Spring Stage was filled for the 12th straight year with talented Woods!

With Ken Helmes and new band coordinator George Mitchell at the helm, a record number of bagpipe bands were invited and even more approached asking if they could come. Quite a change from the early days when we were told that no bands would come out for an event as late as October. A record 14 bands were signed on and 13 of them came to compete this year. Making for very full days for these men and their helpers (and there is a plea for MORE able-bodied helpers in the future). Band and individual scoring was handled beautifully and the public was treated to a wonderful show. Then came the Marines . . . . The 3d Marine Aircraft Wing Band from MCAS Miramar was the special guest of our band show this year and did a great job adding to the military pomp and ceremony of our Opening Ceremonies and Grand Parade. The second time a military band has performed at Seaside, they will be our guests as often as they are allowed to come! We thank them for their efforts and the great show!

Scottish Special Guests were Chief James McBain of McBain and his family all the way from their Arizona home for the second time in five years. Jim and the family are popular guests and entirely approachable - and welcome guests in all of the Clan tents they visited along Clan Row.

On Saturday, Seaside's unique event, the Seaside Street Dance, once again drew a large and enthusiastic group of adults and children spontaneously dancing to the musical stylings of Whirl'd Music. Dancing is always a popular viewer sport and, if the SCDers (the Scottish Country Dancers) have their way, a fine participation sport as well! Both Highland and Country venues were very busy this year - again because numbers were limited to how many could logically be viewed and judged at the Highland Dance AMTRAK Stage. A fine turnout of talent made for a beautiful show again this year.

The Children's Glen under the guiding hand of Coordinator Amy Masumiya was as lively and hopping a place as it has ever been - and maybe more so. Amy's crew was kept hopping with displays and such participation sports geared to young hands just like the larger athletes do. Fine wooden block sets, games and storytelling along with weaving and fencing - yes, sword fighting - displays were very popular.

Clan Currie continued and, as we understand, expanded their popular Harp Glen and Harp Petting Zoo with over 200 visitors on each of the weekend days - an amazing achievement! Next door was the beautiful Scottish Fiddle Competition overseen by Shauna Pickett-Gordon and Colyn Fischer of the performing duo Peat-Fire Flame with even more talented musicians demonstrating their skills. More to see and hear!

A fourth performance stage has become necessary with the bounty of talent showing up at our door! The Pavilion Stage right along Clan Row was a lively spot with a whole gamut of musicians including the Scottish Fiddlers of Los Angeles, a fantastic young trio of siblings called Three for Joy and many others kept that venue alive and lively all weekend.

Why we decided to host a HAGGIS EATING CONTEST is anyone's guess. But we did and they did and it was fun, messy and satisfying (so it appeared) for those who participated! The winners crammed down a pound and a half of Charlie Lamb's great haggis when it was over and some looked like they could keep on eating! Maybe we'll do it again - who knows? Charlie?? Thanks, Dennis Strawhun for emceeing. Dennis and fellow Clansman Jim Strachan also did something that had not been done for their Clan in almost 200 years. They got their Clan Strachan filed and approved by the Lord Lyon King of Arms himself. Check your 2014 Games Program for all the details. Congrats, guys!

Yes, you could enjoy a serving of haggis without entering the Contest. Just go to the Heritage Meat Pies booth operated by Sunblest Foods for your very own portion. And so many other Scottish delicacies were on hand, as well. And, if a cuppa alongside some tasty scones appeals, you were in luck at the new Welsh Cakes Tearoom indoors and across from the Celtic Spring Stage where you could munch and enjoy a fine performance at the same time! Merchandise Vendors - nothing but the best. With no hot tub or aluminum siding salesmen! We strive for excellence and will continue to do so. We know that we have not reached a saturation point with our advertising campaign, as good (and expensive) as it is but we keep trying and reaching out. There is no advertising like word of mouth and we thank each and every one of you who tells someone who tells someone who tells someone . . . .

And, finally, we cannot say enough about our wonderful Volunteers. Yes, we at the forefront and probably receive too much of the public's praise but each one of you who dedicates hours upon hours to do what you do to make this the best Games anywhere, we share every accolade with you and thank you from the bottom of our hearts. Now, did I hear someone say 2015? OK, back to the grind and to finding ways of making that one even better. God bless.


John


October 18, 2014--
Only a week away and the fun and excitement seem only a dream. But fear not, before we know it, we shall once again bring you the wonders and thrills of experiencing the culture of our own Scotland. I'll be following up with you soon as I recover from the festivities of the 2014 games. See you in 2015!
2014
October 1, 2014--
How can I write about the weekend and not talk Scotch??

Many of you know about the big Single Malt Scotch Tasting we hold each year at the Four Points Sheraton Hotel in Ventura Harbor. Well, we are doing it again! Four Points has been so generous as to close their popular Alexander's Restaurant for the hours we take over that space for the Tasting, leaving those rooms and patio for you to enjoy a cocktail party-type atmosphere while you sniff and sip!

The difference this year is the super premium Scotches you will be sampling. All from the aging lockers of Gordon & MacPhail and all of the highest quality, you will enjoy a wide range of malts which began their lives as "new make spirit" at the major distilleries but were lucky enough to be selected for additional aging by our friends at Gordon & MacPhail. Does this make a difference? Yes, it does, as you will see! Do not miss this very special event. Five PM until the "A Scottish Evening" time at approximately 6:30. Slainte!

AND....the Special Drawing essence this year is an extremely rare (and do I need to say expensive) bottle of G&M's Benromach 30 Year Old! Here is a little history of this whisky from the G&M Ambassador himself:


This edition was distilled by Diageo, who shuttered it in March of 1983. G&M purchased this distillery in 93; and resumed distilling in 1996. This particular expression is aged in a refill and first fill sherry. Jim Murray gave this expression a 96 twice, and called it one of his favorite scotches between 30 to 45 years of age. Retail value is around 550.
Yes, folks, that is $550 American!! You will all want to take this baby home....but only ONE of you will....See you Friday!!

Aye,
jel
September 24, 2014--
A rambling Chief's Blog Update

The new HAGGIS EATING CONTEST is going to be a big winner! Held at 3 PM on Saturday in the Food Court and called to order by EMCEE DENNIS STRACHAN, the contestants will face an elimination or Speed Round first to see if they are up to the challenge of consuming quality haggis. Then....those winners will vie in Round Two for QUANTITY! No, not all you can eat but all you can consume over a timed period. Charlie Lamb couldn't bring enough haggis down from Oregon for some of you to eat your fill!! Plan to take in this awesome sight OR, better yet, drop by Charlie's Vendor Booth and sign up to become a contestant. Prizes for the most gourmandian winners!!

I can hardly express how elated we are to have a US Marine Band back among us this year. The Third Marine Aircraft Wing Band from MCAS Miramar will be up all day Saturday, taking part in the Opening Ceremonies and Grand Parade as well as other appearances throughout the day. Watch for them. They are excellent and worth a wee search. And, if you can help to feed them--we are committed to providing their lunch and dinner--contact Nellie and tell her what foods you or your contacts can provide. We were hoping for a full weekend with this great band but some odd government restrictions have them headed back to the base by nightfall. Go figure.... The Scotland Independence vote is over and, hopefully, will soon fade into history as an episode of free-thinking Scots expressing an independent spirit that has been brewing in their gut for eons. But, we should ALL be aware of promises made to the Scottish people by the UK's Westminster government toward greater autonomy and a freer atmosphere to control their own affairs. They were not piddling promises and should not be allowed to fall off the table just because the YES campaign was defeated. Let's be watchful in the days ahead.

The Ventura County Fairgrounds look good, as usual, but with the statewide water shortage, patches of grass are a bit barer than we would like. Let's ignore that and concentrate on the wonderful happenings and attractions we will be bringing to the Seaside Games! Then hold a good thought that El Nino will come roaring through later this winter bearing the tons of rain we need. In moderate proportions, mind you!

So....new events, new bands, new performers, new Scotches (!), new Clans and Vendors. And much of the tried and true that you love. All the more to love about the Seaside Games. AND....in case you were wondering, YES, you can still volunteer to help! We are always on the lookout for more help. That will get you a free ticket after just four hours of work and you can then play the day away!

Contact us at SeasideChief@aol.com or call 818-886-4968.

Thanks and see you soon!

Aye,
jel
August 2, 2014--
So much breaking news for the 2014 Seaside Games but I am going to highlight just a couple of items here today.

First, is that one of our wonderful Vendors inquired about the possibility of creating a Tea Room on the grounds and serving tea (and coffee too) along with their products. What are their products? WELSH CAKES of course! Joe and Denise Carbone aka The Welsh Baker have the idea that by providing a hot beverage and a place to sit plus some of their very yummy baked goods (much more than the amazing Welsh Cakes), our Games guests will enjoy the surroundings more and take a break from the non-stop action outdoors. The Welsh Bakery Tearoom will be inside beside their Vendor stall and directly across from the Celtic Spring Stage! So you will have a little music with your tea! Try it, I'm sure you will love it!

Now, from the sublime to the...well, a delightfully fun competition. How about a HAGGIS EATING CONTEST?? Yes, we have decided that this is something Seaside needs in the worst (wurst?) way!! Charles Lamb, maker of fine haggis (the Original "Oatmeal Savage") has consented to sponsor a Seaside Highland Games Haggis Eating Contest!! He has done this for years and it is about time we at Seaside got on the bandwagon (or the Offal Truck).... So, if you are the determined man or lady you think you are and....have a stomach of iron, come on out and give it a try!! There are PRIZES to be won and there are rules--of course there are rules--that will be explained to you at contest time. In the Seaside Food Court at times to be announced. You will never forget the experience!

Oh, one more thing: Our friend Tooti Bevill has just contacted us to say that she will be bringing her highland cattle back to Seaside again this year!! This is exciting news for all you youngsters and a few older city slickers who have never seen cows up close and personal. But these are not just any cows--they are, in the vernacular, "HEELAND COOS", the shaggy horned beasts found in abundance in the braes and beside the Heeland lochs in Scotland. Tooti generously shares her lovely beasts with all who happen by and even marches with them in Saturday's Grand Parade! You don't want to miss this!!

Aye,

jel
November 25, 2013--
Had a great Wrap Session on Saturday, November 23, at Cal Lutheran U with many Board Members and other key volunteers (and it wasn't at all like my hero Dilbert's recent meeting where he and his cohorts were instructed NOT to talk--EVERYONE contributed in our meeting and voiced exactly what was on their minds)! In fact, I was chastised a bit for not blogging more so here goes:

The Seaside Highland Games held their 11th annual outing on October 12 & 13, 2013 and drew a record crowd of 27,000 guests for the second year in a row reports John Lowry, Chief of the Games (me)! We credit these impressive numbers to the hard work of our many excellent volunteers working at the Festival and away from the Games field in the weeks and months preceding the event. Over eighty clans and societies were on hand along Clan Row and all marched in the Grand Parade as part of the Opening Ceremonies on Saturday. A dozen or more bagpipe bands were interspersed to provide music and a cadence which the Clans happily ignored! There were braw athletes in the Parade--the Highland Heavies--toting a huge caber, some beautifully shaggy Scottish cattle--the "Heeland Coos" as they are known--and even the mighty red dragon of Wales in the mix. All passed in front of the Alex Beaton Stage, as our Center Stage has become known, and resumed their busy schedules immediately afterward.

Competitions in Athletics, Dance, Fiddles, Bagpipes & Drums and Drum Majoring kept a rapt audience and provided a very rewarding time for some talented young performers. Sheepdog demos, battle reenactors and the Harp Circle and Harp "Petting Zoo" were all popular destinations. And did I mention Large Men Throwing Stuff??!! Men and women, actually--see the photos. Tons of unique vendors and a Children's Glen jammed with activities and events scaled to the audience at hand. Classes in Genealogy and Scotch appreciation (in case that was needed were two very busy venues.

We were honored to have three Clan Societies hold general meetings at Seaside this year. Clan Grant and Clan Innes held their AGMs on the grounds while Clan Rose saw fit to bring their new Chief of Clan Rose, Chief David Hugh Heriot Baird Rose over from Scotland to be our Honored Guest this year. He was a most gracious guest (just as our own Gordon Chief Granville was a couple of years ago). And a similar dinner was held in his honor on Saturday night atop the Crown Plaza Hotel with approximately 160 in attendance. Modeled after the dinner we staged for Granville, it came very close to being a delicious duplicate ("Scottish" salmon--YUM)!

The 500 tee shirts with our new Seaside Coat of Arms imprinted on them sold out quickly but there are some beautiful Games Programs that can be ordered from Nellie for $5 each, postage included. We wish you all the best and hope to see many of you at next year's event on October 11 & 12, 2014!

So, that's it for now. I hope to be a better blogger and keep you up to date at 2014 plans are solidified. The professional entertainers like to have their year's schedule set early so those will be among the first solid reports I can bring. One thing, well, TWO things I can say now are that Celtic Spring will definitely return and we hope to have confirmation that perennial favorites The Browne Sisters and George Cavanaugh will be back also!


Thanks and stay tuned....
jel
Until we meet again on the fields of Ventura, California,
Aye,
Chief John Lowry
2013
June 20, 2013--
Dear Loyal Seasiders,

When I realized that my last Blog update was a review of a dark and somewhat dismal Scottish play called "The Women of Lockerbie," I knew it was past time to tell you of some of the new and happy plans that are in the works for this October's Seaside Games. . . . On the entertainment front, we are pleased to announce that Famous Bagpiper/Entertainer Eric Rigler and his band Bad Haggis will be returning to the Celtic Rock Stage this year (and those dates are October 12 & 13) and Eric will be paired with Anita Mansfield and her amazing band Anita and the Yanks -- see (5) Anita and the Yanks. Both have been at Seaside before and we know will keep you rocking all weekend long! You will love hanging out in this lively end of Clan Row which is nearby Bydand Forever, the Gordon Highlander recreaters, Morgan Arena where the Scottish Heavy Athletes hold forth and Sara Goodman's All Breed Herding Dogs putting on some very exciting shows!

Just as exciting and just as lively will be the shows at our Alex Beaton Center Stage with Southern California's great band, Sligo Rags, who will perform such hits as "The Devil Went Down to Dublin" (seriously) and so many other tunes from their admittedly Celtic Folk music with a decidedly bluegrass attitude. Check them out here -- Sligo Rags - About Us -- and you will see what I mean! AND....paired with the Rags will be a totally new band out of San Diego....Rich Gordon Heinz and the Gordon Weavers! Yes, you know Rich from other bands, most notably Highland Way and you will recognize several band members from prior Seaside appearances, too. Rich, with his deep, rich baritone voice... will reach into your heart as he performs some of the familiar and beloved tunes we have been missing from this stage in recent years. Not a tribute band by any means, the Gordon Weavers are preparing to bring a freshness and a style to Celtic ballads, old and new.

Moving ever toward the front of the Ventura County Fairgrounds and the stage located within San Miguel Hall, we have the Celtic Spring Stage where, you guessed it, Celtic Spring performs! And do they ever put on a performance! Every show fills however many chairs are allotted to them with SRO audiences crowding in everywhere. They are that good! Only now that the "children" are growing up and branching out (there is one grandchild already), there are new and "spinoff" groups being formed and ready for the Big Time! We will be pleased to introduce a new Irish dance company called "Bows and Toes" which will spell the original troupe with some very exciting Irish step dances and an even newer group, "Hidden Fifth," which combines Irish Traditional Music with driving piano & guitar to create a lively blend of tunes that will leave you wanting to dance!

So much more but we will leave some until next time! Please make your plans to attend this ELEVENTH Seaside Highland Games which is shaping up to be the best one ever!! Thanks and be back soon!


2012
September 9, 2012--
A Busman's Holiday

You could call what Nellie and I and a couple of our intrepid Seaside Volunteers did yesterday a "busman's holiday" I suppose. Although the Will Geer Theatricum Botanicum deep in Topanga Canyon is hardly the same as attending another Scottish Festival (which we do very often, too). We took time off from the helter-skelter of Games prep and yes, we attended a play, a wonderful play about Scotland. The Women of Lockerbie is a truly mind-grabbing story based on the explosion of Pan Am Flight 103 in the skies above Lockerbie, a village in the south of Scotland close to Dumfries, and how that tragedy affected not only the families of those lost in the plane but the Scots families who lost loved ones on the ground and, in fact, the entire population of that place. 259 passengers and crew from 21 countries plus 11 people on the ground were all killed.

Tough material to be made into an engaging play - especially into an interesting and engaging play that does not drag you down and become maudlin. Writer Deborah Brevroot said that the only way she could see to keep it interesting and not lose her audience was to write in the form of a Greek tragedy. That and the ever present Scottish humor. Now, I don't know much about Greek tragedy but I can relate to the Scottish humor idea. It has brought me, and any number of folks I know, through some very tough tragedies. And, glimpsing the script as I did, I could see and grasp the Greek tragedy idea, too. When Madeline and Bill Livingston travel to Lockerbie seven years after the crash to find some evidence of their young son who was on the plane, Madeline, who had been in deep mourning all those years, practically became a wild woman - traipsing the hills day and night, looking for what? Maybe a personal affect, maybe a bone?? Bill could only stand by and watch and try to console but she would have none of it. He became more in sync with the Scottish ladies who seemed to appear from nowhere. They understood, they were tough, they were humorous, they appeared to accept the circumstance. But, deep down, they were fighting the system, the bureaucracy, with every ounce of their being. The authorities - mostly the Americans - had put a lid on everything and would not allow any access to personal affects, even to the bags and bags full of clothing that had been collected. When Madeline learned of this, she became even more wrought with her grief and the ladies knew that had to do something.

They, somehow, gained access to the clothes and performed the beautiful act they intended all along. Very lovingly they held each piece and then washed it in the nearby stream with the intent of returning what they could to each grieving family. And, somehow, among all the terribly soiled artifacts, a satchel belonging to Madeline and Bill's son was found intact and returned to them. Bill, who had shut off his emotions years before when dealing with the details of their lives when Madeline was unable, crumbled and sobbed like he never had before and Madeline, in an almost instant role reversal, became his consoler. There is so much more to tell. The Scots ladies were not untouched by the disaster - Olive Allison lost a husband and a daughter. None of the people, the characters, went away happy or were, by some miracle, made whole but all had a greater satisfaction and a little better understanding of the world.

The setting was rustic as it always is at the Theatricum but the natural wooded glade was a perfect Scottish brae in which to gather and share this amazing tale. Good, familiar Scottish tunes, too . . .

jel
August 21, 2012--
We are happy to report that Alex Beaton has some exciting news to report on his facebook page https://www.facebook.com/alex.beaton.750. In short, he tells us that: "I scratched my own ear this weekend for the first time in more than a year!" We are pleased to hear of Alex's improvement and look forward to seeing him at the games as soon as he is able.
August 17, 2012--
We have just received word that the UNITED STATES MARINE CORPS 1st Marine Division Band from Camp Pendleton is coming to Seaside in October! This is something we have worked very hard to achieve and now it is ours for the asking!!

We are now working to maximize their visit to make full use of their time in Ventura. The Band will be with us both days so will play a significant role in Opening Ceremonies at NOON on Saturday and play an important part in ALL band marches on Saturday and Sunday.

A concert is in the works for Saturday night and we hope you will stay tuned for further developments. In the meantime, please alert your friends that they MUST come to the Games to see this outstanding musical group--very possibly a once-in-a-lifetime occasion!

JEL
July 7, 2012--
Hello Readers. So many exciting things are happening in conjunction with the Seaside Games Tenth Anniversary Festival that I thought I should share just a few (and hold some as surprises for October)?! Maybe, but the news I can hardly contain is that we are very VERY close to finalizing arrangements to host the United States Marine Band in Ventura this year! Of course, dealing with a military organization of any nature in these unsure times is delicate business but the Marines want to come and we are very eager to have them! They will be a definite highlight for the Festival and even more so if they can perform in concert with the great LA Scots Bagpipe Band. If you have ever experienced these two in a combined performance, you know what I mean.

Adding to that, we were contacted recently by the famous Los Angeles Welsh Choir - Côr Cymraeg De Califfornia - who have volunteered to come and perform for us this year! Welsh choirs have been the standard for the world's finest choral music and the Los Angeles version carries that reputation with pride and confidence and we are honored to have them to join us. They have agreed to perform at the popular Sunday Morning Kirkin' 'o the Tartans service - our wee break in the action before heading into Day 2 of our fully packed schedule - and will be sharing time on the lively Celtic Spring Stage later in the day.

As you have seen elsewhere on this wonderful site - so marvelously maintained by Web Guy Mike McChesney (thanks Mike!) - Clan Currie is carrying their plans forward to having a true Harp Glen with all the atmosphere to make it a great experience. Watch for updates as details come together.

Just when you thought we had the corner on exciting and unique vendors, Nellie has added new ones that you will see at no other Scottish Festivals! Have you ever seen a peat vendor?? Me neither.

Seen the movie BRAVE yet? Yes, some Games have had a BRAVE booth so that the Walt Disney Company can promote their movie. Following up on that, Seaside is bringing in a true professional "bowyer" (an artisan who crafts the highest quality hunting/sporting long bows) and a "fletcher" or arrow maker! Rod and Deena Scoville make their living at these crafts and will present finer products for sale (as well as children's editions for young Festival-goers to take home with them). You won't want to miss it!

We are not slighting our very successful Fiddle Competition nor any other aspect of the already packed schedule of events. Don't miss the quickly expanding Drum Major Competition with current and former World Champions in our midst! Very colorful, very exciting!

The Seaside Automotive Display should be a fun and historic place this year, too. For one, the Shelby Owners Clubs have been invited to show their COBRA automobiles as an added attraction to the array of British autos of all makes and models. It should be an exciting a place as any on the field!

See what I mean? SO much happening and more being added every day. Please make your plans to attend this special TENTH ANNIVERSARY edition of the Seaside Highland Games.

Cheers,

John


April 7, 2012--
We are so pleased with the work our friends in Clan Currie Society have done toward the preservation of Ellis Island and in recent years highlighting the thousands of Scottish immigrants to enter the United States through this historic gateway and now linking it to the highly successful annual New York City Tartan Day Celebrations.

Locally, Ian and Eileen Skone-Rees faithfully maintain a Clan Currie presence at every Seaside Highland Games and other southern California Scottish Festivals. Enjoy this excellent short film highlighting the arts that make Scotland great.


April 4, 2012--
Hello Blog Followers! Yes, it is way past time for an update of our Seaside Blog page so here goes! If you thought there must be news about the 2012 Games, you'd be correct! We (OK....I) have been remiss in informing you. For example: ALL of our entertainment stages are fully booked and have been for awhile now. Do you want to know who they are?

In this, the TENTH year of the Seaside Highland Games, the stages will be a little bit nostalgic while still bringing what we see as the best entertainers around. Center Stage will be anchored by the best "Sister Act" anywhere, The Browne Sisters (and, yes, they'll bring Cousin George Cavanaugh along to round things out). Working beside them will be a good friend and truly amazing piper/guitarist/singer, John McLean Allan and his band, Stand Easy. John has been involved with both the Brownes and the Seaside Games through his piping prowess and his teaching of so many of our younger pipers as they prepare to compete at Seaside.

Moving back indoors into San Miguel Hall and to what we call our Celtic Spring Stage, you will find, guess who--Celtic Spring! This fine family of superb dancers and musicians has been at every Seaside Games from the beginning and we are so pleased to welcome them back. And, in that same vein, Máire O'Connell will bring her world famous Claddagh Dance Company Irish Step Dancers to perform. BOTH of these groups put on a fine show and will keep your toes tapping for sure!

Now, way at the far end of Clan Row is a bit more raucous style of music. You will hear the distinctive sounds from the Australian band BROTHER long before you arrive at the Celtic Music Stage. These guys have been with us before but we had to have them back to help celebrate this TENTH ANNIVERSARY at Seaside! Same with Highland Way out of San Diego. They were here a few years back BUT Brian Caldwell has reinvented the band and will bring a new and exciting version of Highland Way to the stage this year. Expect great fun and great music with good food and bev just steps away!

So that covers a bit o' music, doesn't it? But there is so much more. The hundreds of wee Scottish Highland Dancers will perform to the sound of the bagpipes just inside the front gate. And scores of Scottish Country Dancers, a slightly more mature and dignified lot, hold forth in McBride Hall. Pop in for a cuppa and to try this friendly form of social interaction. You might like it and want to become a part!!

The Children's Glen just across Main Street, our "Clan Row," is an amazing place with non-stop activities for the wee ones and includes famed Scottish Storyteller Dr. Neil McLeod who can spin a tale or quote a verse like none other. Of course, shopping in the famed "Celtic Shoppes" of the two giant vendor halls is always an exciting excursion as time permits. And the Food Court just beyond will entice you with the aromas of authentic British and Celtic dishes as well as American as you choose.

The giant Scottish athletes, the "Highland Heavies" who will awe you with their amazing feats of strength in Morgan Arena tell me that they have something very special planned for our TENTH. I wonder what it can be?! Come and see for yourself. Sara Goodman's Sheep Herding Dogs put on wonderful shows in their own Seaside Arena adjacent to Morgan. Check the schedule for times of all performances.

So much more happens at all venues than is highlighted here. Bagpipe Bands and individual Pipe and Drum competitions occur throughout the day(s). A beautiful Drum Major Competition with championship competitors will demand your attention. Special classes in genealogy, Celtic language and music and whisky will fill up quickly. Our new Scottish Fiddle Competition will continue and the hundred plus Scottish Clans and Societies will be on hand to meet and to greet you--and direct you to your very own Celtic connection!

And so much more to write about next time!

Cheers,

John



Alex continues to improve!
to read the latest updates from Alex as well as from his friends.
Nuthin' new yet. Still recoving from this year's soiree. but . . .
2011
Well, the 2011 games have come and gone. Here is a recap of my blogs during that year.
August 15, 2011--
Sligo Rags - 2011!!
Anita and the Yanks - 2011!!
Nellie and I were both surprised and pleased to receive a personal phone call from Alex Beaton on Sunday while we were at the Fair! He sounds great if, understandably, a bit raspy. Eager to get on with his rehab so he can be back among us!

We have just reached agreement to have the very popular Highlander Warriors among us again this year! Richard and his crew will be making their camp down near Bydand Forever and are looking forward to being part of Friday's Fashion Show where they show so well!!

Nellie got a surprise phone call from a group of prospective Volunteers we hadn't expected--the Roller Derby Girls of Ventura will be on han to assist you through the gate, help you find parking or to sell you a tee-shirt (and maybe model one)!! We are delighted to have these bright and talented young women become part of the Seaside Games experience.
August 6, 2011--
Yes, it is past time to update you on Festival happenings as we draw to within two months of this year's event. First, the past month has been one filled with major trauma ever since Primo Entertainer Alex Beaton's unfortunate accident. For those of you who don't know, Alex was seriously injured in a fall at his home in Tennessee when he damaged a disc in his neck requiring emergency surgery to relieve pressure on the spinal column. He has come a long way in these days since the accident but as yet does not have use of his limbs. He has been moved to a wonderful rehab facility in Atlanta, Georgia where they have a great track record with treating paralytic patients. There is more information being posted daily on Alex's facebook site--like Beth's story of Alex calling and singing to her yesterday!

The Seaside Games are rocking along and, since we now know that Alex will not be well enough to join us, we have gone to Plan B which is to ask your favorites, The Browne Sisters and George Cavanaugh to return to Center Stage once again. We know you never tire of hearing this wonderful trio and the mellow tones of George's great baritone voice.

Stand by for more to come shortly.

John



May 5, 2011--
We believe that helping keep the D. C. Dalgliesh weavers in business is a worthy cause. D.C. Dalgliesh is the only traditional tartan weaver worldwide that that weaves using traditional looms with flying shuttles. They will weave as little as 4 yards of any tartan. For more information and links to their web site visit our Mercantile page.

John
April 25, 2011--
Got Haggis? We do! The bad guys are returning to our games to pump up the volume. As "Dirty Linen" magazine says: "Rigler and his unisonant mates traverse and merge styles as gleefully as kids set loose in a musical Disneyland. Combining Celtic, African, Rock, Jazz, World Beat and nearly any other piping hot genre to toss into its tasty concoction, Bad Haggis is indubitably a kitchen sink of creativity." . . . Twa helpings, please.

John
April 20, 2011--
We have just added the exciting Celtic band "Anita and the Yanks" to this year's lineup!! You will be pleased to welcome the excellent musicianship and vocal harmonies of these terrific entertainers. This hot new traditional/modern Irish group can be found performing throughout Southern California at various colleges, taverns and cafes. Sure to be a success here at our games, they'll pull you in, stand you up and make you want to dance! See the Entertainment Page for more details.
Until next time,

John
March 13, 2011--
For probably the eleventh time in eleven years, the Seaside Games participated in Ventura's St. Patrick's Parade. Well, actually probably only ten times since the Parade was completely washed out by a torrential rainstorm one year! Son Pete and I were set to hit the road when a call came in telling us to forget about it! But this year--2011--the weather was gloriously sunny and mild and all eighty-nine entrants were on hand to strut their stuff!
And our own Seaside Crew came in from all quarters to make an automotive and shoe leather "Flotilla" worthy of any organization anywhere! The Scottish Country Dancers led by Donna Ingram and Mike McChesney were there. British Cars represented by Paul & Karen Keener and Cindi McIntosh were there. Our Scottish Heavy Athletes were ably embodied in Brandon & Stephani Goodman, Ray Bowman and Rick LaVallee who walked--or ran--the entire Parade route making friends among the assembled throng of parade-watchers and handed out our unique mini-surfboard Games magnets! Seaside Board Members Scott & Linda Graham headed our contingent with the Seaside Banner and the Chief was relegated to being behind the wheel of Cindi's Jaguar convertible, the poor guy!! Capping all was our very own Jr. Miss Seaside Games, Heidi Ingram, who gave the crowds her very own patented "Princess Wave!"
Of course, we exaggerate our Irish persona on this day so our Scottish/Celtic Festival would be publicized and remembered from a day in March all the way to the second weekend in October! Does it work? We think so and have hundreds of old friends on the Parade route cheering us on! And we hope to keep doing it as long as Ventura and the Parade Committee give us the opportunity! Erin go Bragh today. How about "Scotia go Bragh" in October?! Start making your plans now to join us for an authentic Scottish weekend.
Thanks and cheers,

John
January 3, 2011--
Paul Hahn, former Events Coordinator for the Ventura County Fairgrounds (Seaside Park), passed away on Christmas after a long illness. Paul was a very good friend to the Seaside Games and offered help and support beyond anything we could have imagined. As time went by, this dedicated "Scotophile" got himself a couple of kilts so he would feel more at ease around the grounds on "our" weekend. There was a beautiful memorial service held in the Derby Club at the Fairgrounds on Sunday, January 2, 2011 with hundreds in attendance.
A very touching slide show of his life was played and included the song American Child by Phil Vassar showing photos of Paul as a child. Followed by My Wish by Rascal Flatts showing his life including his 24 years at Seaside Park. Finally, his personal life with wife Beth to the beloved Somewhere Over The Rainbow/What A Wonderful World by Iz. You were represented by John & Nellie and son Bill Lowry and so many friends and co-workers of Paul's and ours from all phases of his beautiful life.
You may view the entire obit here: Paul James Hahn Obituary: View Paul Hahn's Obituary by Ventura County Star


John


January 1, 2011--
As we reign in and focus on preparations for the 2011 Seaside Highland Games (Oct. 8-9) we can't help but recall with some nostalgia the terrific efforts our army of workers who, by their tireless efforts, patience, and humor made the 2010 Games the success they were. THANK YOU, CREW! And, while only a smattering of the many folks who toiled in the fields and on the ramparts of the Games, before and after, we also want to thank these folks who made it early to Ventura on October first when we sponsored the Chamber of Commerce Connection Breakfast. We thank one and all who joined us for this most successful event!



And, of course Happy Hogmanay!!!



2010
October 2, 2010--
This is part of the dedicated Seaside Team who made it early to Ventura for the Chamber Connection Breakfast on Friday, October first. We thank one and all who joined us for this most successful event!
September 24, 2010--
The old clock on the wall says "16 Days" but this one is waning and we will be down to two weeks come tomorrow - two weeks until Friday's exciting events kick-off of Games Weekend. How do I report all that has been happening? Our media blitz has been highly successful - the written portion in virtually every print medium available in the Ventura County area. The radio blitz has yet to happen. We will record a spot tomorrow to begin airing next week on KHAY, KVTA and the new KOCP (95.9 fm now called "Rewind" and playing "Feel Good Favorites"). Hope you like it and are convinced to come to the Games!

We are excited about the younger generation taking on the "Twitter" contacts for the Games. Many of you know what that is - I don't! At least I don't have an easy working knowledge of how to "Tweet!" Hey, if that is how the future leaders of this Festival are communication, we are there! Facebook - a couple of them - and you will find many of our artists on YouTube! So, do we have your favorite mode covered? Let us know if not and we'll put you to work. Seriously! We have openings!

Cindi, that's Piper Cindi McIntosh, and I have done a series of Kiwanis and Rotary luncheon programs and a 30 minute segment on Neal Andrews' CAPS TV show. But there is much more and still more to be done. An event coming up in a week is the Chamber of Commerce Connection Breakfast where we would like to have as many of you as possible join us for a "human wave blitz!" If you can rise and shine to appear at the Poinsettia Pavilion at 7 AM next Friday, please call us to reserve a spot - and the Games will buy your breakfast! Call 818-886-4968 and say that you want the "Free Breakfast" and your seat will be secure!

The Fiddle Competition is shaping up and the evening concert by Shauna and Colyn professionally known as "Peat-Fire Flame" is beginning to draw a crowd. They will perform beautiful fiddle and keyboard duets on Saturday night in the Four Points Ballroom - the very same room used for our "A Scottish Evening" event the Friday night before.

Harp Ring leader Aedan MacDonnell advised just today that she expects a good turnout of harpers this year. This pleases the Chief completely! We signed on a second bagpipe band from Utah just recently and also hired an Irish rock band called Shenanigans to increase the decibels on our Celtic Rock Stage - both Saturday forenoon and the free evening concert. If you don't know these are the absolutely free evening performances by the bands from the stage - the Tinkers and Brother with a little Browne Sisters and George Cavanaugh thrown in - and now Shenanigans! That should be awesome! Tell your tweets all about it!!

We spoke with Special Guest James McBain, Chief of Clan McBain during a quick trip to Phoenix last week and he and the family are looking forward to being at Seaside—and we them, as well. Make sure you get to meet and greet these wonderful friends of ours. They won't be strangers long.

I will be making appearances before the Ventura City Council and the Ventura County Board of Supervisors to receive their commendations and kind remarks and we will be about ready to party! Please make sure you have the tickets you need. Friday's Whisky Tasting can accommodate about an unlimited crowd but the Scottish Evening usually sells out early. If you enjoy good food, live entertainment and a beautiful show of the latest Scottish Fashions, you MUST be there! Call Nellie (the same 818-886-4968 number) to reserve those special tickets. Thanks and we will see you all very soon.
Cheers!
John
August 18, 2010--
With the "Doomsday Clock" staring us in the face, we can't help but know that we are well inside of two months until Festival time! But that's OK, we are making tremendous progress in all areas--just ask any of the Games Volunteers in charge of major areas and they can tell you what is happening in their world.

From our little section of the world, I realized that we are seriously overdue to give an update so here goes--in LIFO (Last In, First Out) order beginning with last night, August 16, 2010. Nellie and I were treated to one of the best live performance musical shows we have experienced and it starred our own little GABBY TRAINOR, the young lady who has sung our National Anthem at the last two Opening Ceremonies. No, it was not a Celtic concert but Gabby and a bunch of Ventura's young and extremely talented kids took over the Rubicon Theatre and rocked the place with a series of amazing performances! And Gabby was the star of the show and, in fact, had mentored the younger set all summer long to bring them to this performance peak. Spiked with some amazingly talented professional singers and musicians, Gabby and her Gang gave us a mind-boggling evening of one show tune highlight after another. Thank you, Gabby, and we hope you will still honor us with another sparkling performance on Saturday at the Games!

The 2010 Ventura County Fair is now history--almost slipping by our clutches but not quite. Cindi McIntosh squeezed in an appearance with her bagpipes a-blazing (well, almost) on Friday after opening day and yours truly got up his gumption and made a last day stand on Sunday last for a good ten hours! It was well worth the effort with many positive nods and inquisitive conversations about my choice of dress for the day. My kilt was one of only two to be seen all day on the premises (another fellow was brave enough to wear his Utilikilt and we had a very friendly exchange!) Always a rich source of new Games attendees, we hope that more than a few will materialize from out efforts, right, Cindi!!??

The reason we were unavailable for much of the Fair was our splendid trip to the Auld Sod (Ireland) and to "Auld Reekie" (an obsolete nickname for Edinburgh carried over from when it was more of an industrial city and perpetually enveloped in smoke. You remember smog, right? Well, like that. Fortunately, they, as well as much of the LA Basin, have cleaned up their act to show off a sparkling city set on seven hills to be best admired from atop Arthur's Seat in Hollyrood Park, a sprawling parkland right in the center of the city. That's not all we saw in our fifteen days but more will have to wait. Ireland is another wonderful and enchanting chapter in our wanderings!

While we were off and awa', Donna Ingram and Mike McChesney were holding the fort and actually driving the Games chariot in the summer's Fair Parade! They and whatever riders--princes and princesses--they could get to round out a Seaside Games entourage. Thanks to all!



So, at this stage of preparedness, you can see that progress is being made literally on an hour by hour basis. We were alerted to a new band that might be available just this morning. We agreed to become partners with a brand new Irish Festival that will take place in downtown Ventura immediately following the traditional St. Patrick's Day Parade. Why? Because it's Celtic and because it is another opportunity to talk about the Seaside Games--OUR Festival and the one so close to all our hearts. That's why. Thanks and keep an eye on that old clock--I sure don't want to!!
Cheers!
June 15, 2010--
Happy Fathers Day to all you fathers out there!
With that said this little update is coming your way to let you know that we are still busily getting things ship-shape for the games coming up in a little over 100 days! We've a new poster on the Forms page that not only is a beauty, but also consists of two pages for more complete information. AND we are SO PLEASED to announce the first annual Seaside Scottish Fiddle Competition! It's open to all fiddlers and would-be fiddlers and includes a workshop on Saturday morning with Colyn C. Fischer followed by competitions in the afternoon. The competitions are under the auspices of F.I.R.E.. And, to be seen during the day are the Los Angeles Scottish Fiddlers who may even play a set or two. But wait! There's more. The Peat Fire Flame duo of Colyn C. Fisher on fiddle and Shauna Pickett-Gordon on piano will present a concert Saturday evening at the Pierpont Inn. And, O.M.G.! after the concert will be a "come one, come all" Scottish Music Session right there at the hotel! Bring your instrument and Let's JAM!
June 9, 2010--
Seaside Scottish athlete Ray Bowman receives publicity for something besides throwing heavy objects!
Ray is very involved in international trade and teaches Ventura County students the business skills they need. In addition to his other business and pleasure pursuits, Ray is an Olympic weight lifter and may be, pound for pound, the strongest man on the field.
As a valued teacher/consultant with the Economic Development Collaborative of Ventura County and a member of the Global Entrepreneur Training in Trade Program (G. E. T.) Ray has been instrumental in preparing local business leaders for active participation in the Global business world. For more information about the program and to see Ray's involvement, go to the program's website at "http://www.edc-vc.com/GET.htm" . You go, Ray!


April 16, 2010--
Once again yours truly and a number of others (somewhere over sixty) got together to celebrate National Tartan Day this April 6 at the landmark Tam O'Shanter Inn in Los Angeles (well, we ACTUALLY celebrated on April 5, but our hearts were in the right place). The annual event is co-sponsored by the Seaside Highland Games (that's us) and The Saint Andrew's Society of Los Angeles. We enjoyed a wonderful repast including a wee dram o' The Glenlivet Single Malt Scotch, listened to our favorite Piper, Cindi McIntosh, sang a few of Robbie Burns' songs and just enjoyed one another's company. Oh, and I was honored to offer up a brief history of Scotland. In addition to the exquisite cuisine served by the Tam, our long-time sponsor, Walkers Shortbread, provided us with a bit of the fare for our enjoyment. In honour of Tartan Week, Walkers suspended shipping costs for orders placed via the internet. Take a gander at this:


Well, that's it for now. Come back often cuz we're continually updating the site or adding something new.

Aye.


March 14, 2010--
Ventura County St. Patrick's Day Parade

Once again, yours truly and many of our wonderful staff of volunteers shown their imagination and dedication to our highland games. With a nod to the Irish in them all, they were absolutley radiant on March 13, 2010 as they rode the parade route in our festooned float displaying not only our name, but also replicas of our world famous surfboard magnets. Nary an inch was unadorned as the float was alive with shamrocks, garland, tartan and flag. While Nellie waved the royal wave (natch!) from the float I was resigned to leading the entry by riding in a convertible Jaguar automobile.

And so the season begins. We'll be keeping you informed of the latest information here as soon as it breaks.

Slainte!
March 12, 2010--
Hello Seaside Bloggers!

There is some great news about the October 2010 Seaside Games I wanted to share with you. A very special guest of this fall's Festival will be none other than James McBain of McBain, 22nd Hereditary Chief of Clan McBain! The Chief has consented to an appearance at Seaside together with his lovely wife, Peggy, Lady of McBain, son Richard J. McBain of McBain Younger and Richard's significant other, Ms Lisa McFarlane. Your Games Chief (not to be confused with a true hereditary chief such as Chief McBain) has been in touch with Jim and the family over the past several months until it became clear that they could attend. Living in nearby Arizona makes it a somewhat easy "commute" and the Clan McBain/McBean members, as well as the hundreds of us who know them well, look forward to a most pleasant time together.
February 18, 2010--
The 2010 Scottish Festival season is well underway and we are "out among 'em" telling the story and talking up this year's Seaside Games on October 8 (evening festivities), 9 & 10. Nellie and I - and a fair number of YOU guys - attended the Queen Mary Festival over Valentine's weekend and, while it didn't break any attendance records, we had a great time greeting the scores of Seaside fans who came by for a wee visit! It seems that word-of-mouth continues to be our best weapon and that someone has been spreading the word! Now, who could that be, I wonder?! Keep it up!!

The calendar starts to look like a war zone from about this point forward! The Arizona Games are next weekend, February 27 & 28 and we'll be there. The SCOTSMAN'S BALL 3 (formerly the Donnachaidh Dinner) will be held in Long Beach on March 6 and we'll be there. The Ventura St Patrick's Day Parade will be held on Saturday, March 13 "LUCKY 13" and we'll be there. The Seaside Highland Games Annual General Meeting will be on Saturday afternoon, March 20 at the Tam O'Shanter Inn and of course we'll be there! Our combined Seaside Highland Games/Saint Andrew's Society of Los Angeles Tartan Day Dinner will be held on MONDAY, APRIL 5 at the TAM. We will definitely be there and we want you ALL to come out and join in this great evening of fun and frivolity! A special reminder will be out very soon. The Bakersfield Games are on April 10. And yup, we'll be there!

Are you picking up a pattern here?? Things are happening and we will be representing the Games at as many events as possible - and we want you there lending a helping hand and enjoying the camaraderie of others who love the Games! We could especially use more hands at the St Pat's Parade to decorate and ride on our "plush" Seaside Parade Float! It is a fun morning and we usually congregate somewhere to wet our collective whistles afterward! You are welcome to attend the AGM but will be required to let us know in advance if you care to stay for the dinner following. Bring your purse to that one. We very much want a good Games showing at the Tartan Day Dinner this year - an awesome time with good food and fun! Watch for further word . . . .

Advertising pieces in place so far include a return to the very popular "surfboard magnets" and a handsome flyer featuring Drum Major David Melton of the Pasadena Scottish Pipes & Drums. You won't miss it-it's a winner!! Games t-shirt designs are being drawn as we speak - another award-winner, we trust!

Much more will follow so stay tuned . . . .



2009
October 20, 2009---
Sigh . . . . The 2009 Seaside Highland Games have come and gone and we welcomed somewhere over 25,000 guests this year - a very satisfying total in today's economy. What better way to bring to a close the wonderful 2009 season than to offer you the musings of a visitor? Here then, are those musings. Fail not to read it in total for you may miss the recollections of a portion of the games of particular interest to you!
"Something was clearly drawing people to the Ventura County Fairgrounds on the weekend of October 9 & 10, 2009 as the 1700-car capacity parking lot was full to overflowing by ten am on that Saturday morning. A closer examination found that all five admission booths were buzzing with tickets sales being processed by a crack crew of volunteers. The FOOD Share - Ventura County's help for the hungry program - truck was busy accepting canned goods being exchanged for discounted ticket purchases by many very alert locals. A record number passed through the gates with pre-purchased tickets. Thousands of participants had long since taken their place at a wide variety of venues throughout the Fairgrounds.
Once through the gates, we are immediately struck by the wide variety of activities we want to explore. To our right is a stage where dozens of Highland Dancers are already performing and many more flights await their turn to vie for trophies and scholarships. We learn that these prizes are sponsored by clans, families, organizations and the Games themselves, often honoring the memory of someone dear to the donor. But a quick look to the left and we see a large and very active Children's Glen where the young ones are playing games, listening to stories and generally having the time of their lives. The "Information Booth" is that but so much more as we could purchase a beautiful 60-page Games program, a handsome Festival tee shirt and other Games merchandise.
Moving along before we spend our budget and not even get to the Food Court, we don't travel far before we hear the strains of more dance music coming from McBride Hall where, as we will see, talented teams of Scottish Country Dancers are moving through the intricate patterns of ancient and modern routines. Come, give it a try, they plead. Maybe later we say, being eager to explore more of the vast area ahead. Then we notice a relatively quiet corner where some very accomplished Celtic harpists are strumming and singing the ancient and very modern songs to the delight of a growing audience. Our first vendor sighting is the Utilikilt dealer who says he can put us in a stylish and comfortable kilt without breaking our bank. Again we beg off to pursue the sights and sounds ahead.
And is there an "ahead" ahead! What is called Clan Row (for this weekend at least) extends straightaway for a quarter mile and filled with beautifully decorated tents of nearly eighty clans and societies, each one eager to greet members but happy to chat with visitors and to assist with our clan connection, if we have one. But while a connection is fun, none is essential to enjoy all that this exciting Festival brings. Wandering on, we find that the huge buildings to our left are chockablock with merchants from across the land selling every sort of Scottish/Irish/Celtic jewelry, trinketry and wearing apparel imaginable - most of which you will find at very few other places and nowhere amassed together as they seem to be here. The first building even has a stage where top talent performs throughout the day and adds a pleasant Celtic aura to the experience. Its twin yields even more buying opportunities and something else - the faint aromas of fine food and the strumming and singing of more professional performers!
As it happens, Center Stage is just across Clan Row and one of my main guests - the wonderful Food Court is right there, too! Excellent ethnic foods such as bangers and mash, Scottish meat pies, cottage pies and steak or chicken pies, fish and chips and Scottish barbeque are bound to satisfy and they, paired with an authentic beverage, do exactly that! Happily, we take our place among the thousands who are gathering to witness the Grand Parade and Opening Ceremonies at noon where the several bagpipe and drum bands, interspersed with clan contingencies, pass through the crowd and across in front of the viewing stand. The dignitaries try to remain somber but find themselves greeting the marchers like the old and beloved friends they are. Special guests this year included Dame Barbara Hay, British Consul-General to Southern California, and the Commanding Officer of the Ventura County Naval Facility who took the formal salute from the Massed Band Drum Major. A very extravagant and exciting ceremony.
Further along Clan Row - we are only about halfway to the end - are more clan and vendor booths and a performance "portico" where the Los Angeles Scottish Fiddlers perform, a Celtic choir and Celtic language classes may be sampled. If I did not mention another classroom, it was where you may enjoy boning up on the latest genealogy techniques and learning about and sampling some fine single malt Scotch whiskies. Try to keep these experiences separated one from the other!
Now the thumping beat of some serious Celtic Rock music begins to fill our ears and being! We are entering the domain where some very talented Celtic entertainers hold forth and, we understand, will continue to play into the evening well beyond gate closing. The music is more than foot - stomping and calls for many to get up and move - often in pairs or conga lines, it is that contagious! Nearby reenactment and re-creation groups take their noisy neighbors in stride and put on their own colorful shows throughout the weekend.
But we are approaching the end of Clan Row and have arrived at Morgan Arena, often filled with roping and rodeo demonstrations, but alive today with the huge Scottish Athletes throwing massive heavy implements, and, yes, including the caber, paired together, albeit unequally, with the sheep herding dog demonstrations and a bit of rifle and Gatling gun firing from the re-creators! An experience too amazing and complicated to describe. Let me just say that we could have spent the day at this one arena!
Those amazing athletes competed for prize money and points in overall standing as did bands and individual pipers and drummers with prizes similar to those the dancers had. Nearby was a huge darts tournament where some very serious but enjoyable competition also took place. Did we miss anything? Probably but we are returning next year and hope to see even more of this great show. Won't you join us on the beautiful California coast October 9 & 10, 2010?"
September 28, 2009---
A VERY Special Drawing!

We are pleased to announce that the Seaside Games wil be offering a very special Saltire Sporran and Buckle Set from Caledonia Fine Arts Co. as the Friday Drawing prize this year. This set is so special that we are extending the Drawing until close of the Games on Saturday, October 10 at which time the lucky new owner of this amazing prize will be announced. Drawing tickets will be available for purchase at Friday's Single Malt Scotch Tasting and during the "A Scottish Evening" events at the Four Points Sheraton AND throughout the day at Nellie's Information Booth just inside the front gate of the Fairgrounds where you may view the actual set someone will win.

Caledonia Fine Arts Co. has been showing their beautiful wares for the past several years at Seaside and more than a few of you have taken the opportunity to purchase a set or a single piece. This set (see photos attached) has the Saltire--the Cross of St. Andrew--as the focal point of each piece for a beautiful and useful completion to your Highland dress ensemble. You won't want to go home without one!!

Drawing Tickets are $10. each or three for $20. The Drawing Wenches, Alicia Moore & Helen Ytuarte (sorry ladies!), will be available all evening on Friday and you may purchase tickets at the Information Booth any time Saturday. OR you may purchase tickets using PayPal and Nellie's email address LowryLines@aol.com OR charging to Visa/MasterCard by calling Nellie directly at 818-886--4968. We do not want anyone to be left out of an opportunity to win this truly beautiful set! The complete set, by the way, includes the most beautiful sporran chain you have ever seen and a fine matching sgian dbuh.
September 13, 2009---
WONDERFUL NEWS!

In response to my request of 24 August, Dame Barbara Hay, new British Consul-General for Los Angeles, has agreed to attend the Seaside Highland Games and to open the Games on Saturday 10 October! This is enormous for our Games! We offered to have her stand with us on the reviewing stage/platform/dais and review the passing Parade. She would then declare the Games officially open and to offer a few words of greeting. Protocol Officer Patricia Tennyson Bell will be closely advising on any and all protocol matters necessary with regard to this and all other aspects of her visit. She states that she will advise "nearer the time" whether or not she will be accompanied by colleagues from the Consulate.

I was privileged to hear her speak shortly after she arrived in Los Angeles at a BABC (British-American Business Council) function but did not get to speak personally with her at that time (much to our photog Leo Lewis' chagrin)! Leo, I believe we will have our day in the sun on October ten! Dame Barbara is a Scotslady and is likely familiar with festivals back home. I am quite sure this will be her first foray into an American-style Games. We thought you all would like to have this exciting bit of news!

Best to All,

John


August 28, 2009---
Time for a bit of a Blog update, wouldn't you say? The SAAA Athletes and yours truly made the monumental decision today that the athletic events--the LARGE MEN THROWING STUFF--will be held in Morgan Arena this year! Morgan Arena is at the extreme end of Main Street (our Clan Row) and is where several other events (Sheepherding Dog Demos, Highlander Warriors weapons demos and Bydand Forever) have all been staged. We will need to do some juggling but can make this shift work, much to the delight of SAAA and the Games Organizers. Changes to the surface of the Fairgrounds parking lots have made that surface unsafe and unusable as a throwing field. Morgan Arena will be leveled and groomed and should be perfect as a "launching pad" for those heavy objects!

The VCDA (Ventura County Dart Association Ventura County Dart Association ) will be back this year with a bigger and bolder darts tournament with more prize money and fun to be had by all in Santa Cruz Hall. They have their own bar right in the Hall, you know!!

The 2009 Seaside Highland Games Limited Edition tee shirts are on order and are sure to be a big seller. They are amazing and we will have some truly amazing baseball caps with "special talents" to amaze and amuse you. Check them out at the Opening Gate Tables with Nellie and Mdse. Mgr. Scott Graham.
You already know that the Beautiful Claddagh School Irish Dancers will be with us this year. Returning again for the first time!!
We will be on even more radio and TV stations in the Ventura and Santa Barbara area this year. That plus heavy print media exposure will bring the message of the Games to the masses!!

Here is a Partnership we are very pleased to announce to you--the Seaside Highland Games is partnering with Operation FOOD Share
to assist the hungry of Ventura County as we all support the Games. Very simply, cans of food brought to the front gate mean dollars off on your ticket price and a meal for the local needy. Keep watch for full details of this offer!

The Fairgrounds survived the throngs of Fairgoers and will be pristine for our weekend fast approaching. Thank you for your help and interest in the Seaside Games.

~jel


May 4, 2009---
This past weekend the troopers of the Seaside Highland Games went forth to regale and delight spectators at another local celtic gathering - the annual Camarillo Celtic Faire. From brass and bagpipe bands to Irish and Scottish dancers and even to the Scottish Heavy Athletes who gave some low-key demos to the crowds, you ALL made us proud of our association with your organizations during this weekend. Indeed, the entire Saturday Celtic Dinner Concert (with the exception of one person, and we're working on her!) has a genuine connection to our Seaside Highland Games as performers or participants. You are to be commended. We are expecting record crowds again at Seaside in October and they will be looking forward to more of your good work.
Thanks and we will see you then!
April 28, 2009---
Good news for the Seaside Games as a tenant of the Ventura County Fairgrounds! With a better understanding of our not-for-profit status and our ALL volunteer crew, Fairgrounds management has agreed to much more favorable terms for future outings. Grounds rental--a very substantial sum--will remain the same and we will still get no cut of parking or beer receipts BUT the enormous cost of renting thousands of chairs, tables, benches and barriers directly from the Fairgrounds will be greatly reduced--enough so that we now consider the VC Fairgrounds a Sponsor of the Seaside Highland Games! It may not sound like much but, believe me, this is a major breakthrough--and that's not all....
The Seaside Games will be taking a greater role in the Ventura County Fair starting in August and into the future. We have been asked to "host" a Games tent to promote our Festival in the Garden Street area (the little street halfway down Main Street where our Clans exit at the end of our Festival weekend). The tent will be provided by the Fair and we may be asked to share it with another nonprofit but it is very much our baby!! For those who volunteered last year, this is a huge step forward from being in the turtle enclosure!! We have hinted that a spot at the Main & Garden Street intersection would be primo! We'll let you know how that works for us.... THEN...oh, yes, there's more...we have been invited to have a Games contingent to march in the Fair Parade on Saturday (which is August 8 this year) and that a bagpipe band may well be hired to march and play throughout the Fairgrounds during Fair days--a very nice boost for Scottish culture if it happens! So, be making your summer plans to spend some time in our very own "space" talking about our favorite subject--the Seaside Games, of course!!


April 27, 2009---
Here we go again. We're gearing up for another exciting and wonderful Seaside Highland Games for 2009! We're sending out press releases and have decided to get serious about our sponsorship program. To that end we are proud to announce the addition to our staff of Ms. Lisa Mellinger-Allin. Ms. Allin has graciously offered her services as the "go to" person for corporate sponsorships. She can be reached by email lallin@sbcglobal.net or by telephone through Nellie or me. We expect great things of Lisa and look forward to an even more rewarding and extensive Seaside Highland Games in 2009!
The joint Tartan Day venture held at the Tam O'Shanter was a huge success. Those of you who attended can attest to it, and those of you who missed it can only dream of what could have been. Why not "pencil us in" for next year? I'm certain you'll not regret a wonderful evening of eats, drink and entertainment.
February 25, 2009---
The Seaside Highland Games and the St. Andrew's Society of Los Angeles have once again joined forces to promote and celebrate Tartan Day in the USA by staging a fine Scottish feast at a premier Scottish restaurant in Los Angeles called the Tam O'Shanter Inn. Lawry's famous Los Angeles Restaurant. Tartan Day itself, April 6, is the date and we expect to fill the Bonny Prince Charlie Room to overflowing. Piper Prescindia McIntosh will greet guests with a wee tune and Celtic entertainer Jeanne McDougall of the Westlin Weavers will perform traditional Scottish ballads as well as some original compositions celebrating Tartan Day! We will honour SASLA Past President J. Howard Standing, Esq. who was instrumental in seeing to the declaration of Tartan Day in the USA and who was designer and prime mover to have the CA Legislature adopt our own California State District Tartan which is based on John Muir's family tartan, the Muir Tartan.
January 24, 2009---
Here it is 2009 and we've been busy even AFTER the 2008 games. We always try to maintain our close relationship with the supportive communities surrounding the highland games. To this end, we had the honor (courtesy of the Ventura Downtown Merchants Association) of bringing Santa to downtown Ventura during the holiday season. Had you been on the streets that cool December 20th day, you might have seen the likes of myself, wearin' the Claus tartan and thrillin' the wee ones with my stature and bag o' goodies.

.
An enjoyable and rewarding afternoon it was.
And, for those of you who just cannot live without the athletics, the dance, the food and ambiance of auld caledonia in the springtime, we suggest you visit the upcoming games to be held Friday, February 13 to Sunday, February 15, 2009 on the Queen Mary luxury liner docked at Long Beach California. For further information about the Queen Mary Annual Scottish Festival and Games, visit the official Queen Mary website at http://www.queenmary.com
Yes, the new year is here and we are busily about the tasks of preparing for this year's extravaganza. Thus far we are happy to state that our perennial favorites--the mainstays on each stage--will be returning: Alex Beaton on Center Stage (thank you, Alex), Celtic Spring on the indoor stage and Wicked Tinkers on the Celtic Rock Stage. Paired with them will be Highland Way with Alex and Eric Rigler and Bad Haggis on the loud stage with the Tinkers. The crowds should be happy!!
2008
November 5, 2008---
The results are in and the winner is.....the Seaside Highland Games! In a sixth outing, this Scottish/Celtic Festival staged at the Ventura County Fairgrounds hosted more Clans than ever before (80) and was attended by far more Scotophiles and true Scots than ever before (something approaching 23,000)! An aggressive ad campaign together with countless one-on-one and public appearances by Games volunteers got the word out to many more first-timers. Multi-media (radio, TV, newspapers, myriad magazines and handouts) and the thousands of free and discounted tickets distributed each year bring in untold--and unknowable--numbers through the gate. We do know, however, that one simple $2 off coupon in a local throwaway paper proved to be worthwhile by the scores of coupons redeemed with gate crew members.

Every Games venue was bustling the entire weekend--from the herding dogs and Gordon Highlander recreation demonstrations in Morgan Arena to the lively and learning Children's Glen and Highland Dance stage near the main entrance--people were interested and entranced by what they could see and enjoy. Three stages occupied by some of the best Celtic entertainers in the country were humming with quality sounds as were a dozen or so smaller venues with fiddlers, choirs, classrooms and a brass band for anyone who dropped by. You could not miss the bagpipers and bands, alone and en masse, as they marched the grounds from one end of Clan Row to the other. And, we hope you did not miss the Scottish Heavy Athletes as they thundered to set three new records in heaving their heavy implements and cabers! It is truly a show like no other. The new darts venue drew many participants from across the Western US and will pull in more new players and observers as the word spreads.

One stage--our Celtic Rock Stage--remained open and rocking on Saturday until about 8 pm and has a strong possibility of that becoming a tradition on the Field. One plus for the throngs is that it was free of charge (at least this year it was)!

And if food and drink were your cup of tea, it was all available, from good Scottish meat pies and bangers to burgers and fries, the Games Food Court was the place to be. Fine British beers and ales washed down helpings of fish and chips and you could even get an education on Scotch whisky--with tastes--in Ray Pearson's Glenfiddich classroom. Classes in the Gaelic language were very popular this year and the Celtic Arts Center Gaelic Choir demonstrated exactly how much you did NOT know about Gaelic speaking and singing!

Merchandise vendors aplenty for your gifting needs were there as were several dozen British car owners from local British Car Clubs showing off their fine automobiles. The military was also there represented by Yellow Ribbon America and by the "Soldier's Angels" Campaign (who assist the children in writing letters to US service personnel overseas) and the Masons did their usual fine job with the free Child I.D. program.

The Graham and Ross Clans were there in numbers for their respective annual Clan Meetings and arrangements were made for numerous other groups to attend from as far away as Orange and San Diego Counties. The RV parking lot has grown to become a sizeable village and we are so pleased to have them on the grounds.

Plans are already in the works for the 2009 Games (October 10 & 11 in case you want to jot those dates down) and we hope that each of you will become a Seaside Ambassador and invite your friends, enemies and relatives to join us in Ventura next year. You will nae regret it, Lads and Lassies! Haste ye back, won't ye noo?
2007
The following is information about the 2007 Seaside Games--both wonderfully successful outings! Read and enjoy!
ALEX BEATON & ALASDAIR FRASER (and lovely Natalie Haas) will be in concert SATURDAY evening at 8 PM at The PIERPONT INN, 550 Sanjon Road, Ventura (just two miles from the Fairgrounds). Tickets are just $15 and may be purchased at The Pavilion Room door. Don't miss this chance to see and hear two such favorites in one comfortable indoor setting!
Other plans for the 2007 SEASIDE HIGHLAND GAMES (OCTOBER 12, 13 & 14) being held again in beautiful Ventura, CA are moving swiftly! Tickets and entry forms for all venues and competitions either are available on this website or through the sponsoring body. Scottish Highland Dance, Heavy Athletics and Bagpipe Bands organizations all have their own rules and we comply with each governing organization so Seaside results are properly entered in the record books. But, as attendees, you can order tickets and become Games Sponsors right now!
Tickets for the October 12 Friday night events--a Single Malt Whisky Tasting and our very popular "A Scottish Evening" (music, food, fun & fashions)--a tradition leading to Games weekend--are selling out quickly. The Whisky Tasting is an excellent opportunity to mix and meet friends and to entertain business associates. The Scottish Evening sells out quickly so grab some tickets before they're all gone!
As we inch ever closer to October, more entertaining events are brought to the Field each week. The latest is An Cór Ceilteach, the Celtic Arts Center's choir which will perform in conjunction with Christopher Scott Wilborn's popular Gaelic classes and, very likely, another concert on Alex & Alasdair's Center Stage.
If you heard Ventura's British Brass Band last year, you are in for a treat as they have agreed to be with us again. Stirring marches and the more melodic classical tunes are in their repertoire. Great stuff! Check www.venturabritishbrass.com to see and HEAR them!!
We are very pleased that the LA Scottish Fiddlers Scottish Fiddlers of Los Angeles - Home will be with us for the very first time this year. It only took five years but they were finally able to clear their calendar! And, only recently at Pomona did we make contact with the fantastic harpist Barbara Ellen Schilling Music From The Harp -- Barbara Ellen Schilling -- (949) 285-0918 who will perform together with other area harpists--something I have wanted since the beginning!
Now, as we make our rounds of other venues and Festivals, our message is "Come to Ventura for the fun of it!" It IS a fun event that we want everyone to enjoy. Fun with a wee bit of education thrown in. The Children's Glen, always a beehive of activity, will be even moreso this year and one very serious activity will be sponsored by a group called "Soldier's Angels" where the children get to write actual messages to our troops overseas. That, plus the excellent Children's ID program put on by the Masonic Order, balance the fun and games activities each child will enjoy.
Darts will be featured in some demonstrations by the Ventura Dart Association. Just to see how you--and they--like being at Seaside! Can there be more?? Oh yes, there is so much more and we plan to keep you posted as the days and weeks click off toward our October weekend.
The Ventura County Fair was a wonderful success for the Games during its twelve day August run and we thank all the many Volunteers who came out to lend a hand. Many residents from near and far were introduced to our event and many old friends stopped by to assure us they would be on hand, as usual. Very rewarding to hear those words! The Mayor dropped by for a chat and local Scottish DJ "Spence" says he hopes to turn the caber in the required three tries this year! The Fairgrounds took a beating, as it always does (from the nearly 300,000 Fair attendees) but a quick look today gave hopeful signs of clear streets and green grass by October. The great Fairgrounds crew were busily clearing, raking and watering.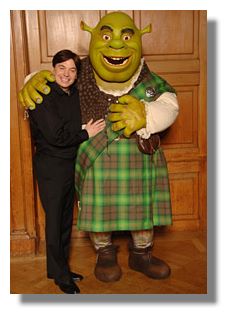 Yes, it's SHREK wearing his very own specially-designed tartan--after all, he IS Scottish, sort of, and he HAS a Scottish brogue, sort of, so the staid tourism agency VisitScotland decided he needed a tartan to wear in Shrek the Third! It is described as being of muted browns and acid greens and was woven by the famous Borders knitwear company, Lochcarron. The idea is to have more people trace their own Scottish roots so let's hope it works! It took a full ten meters (about eleven yards) for the outfit--more than the whole nine yards!
UPDATE: We made contact with the party overseeing Shrek's costumes and, sadly, they are all in use in October. We are on a "wait list" and may get a call so Shrek can enjoy the Games with us, too!!
More to follow. Thanks for sticking with us!
2006
December, 2006 ---HAPPY HOGMANAY!!

The 2007 SEASIDE HIGHLAND GAMES will be held OCTOBER 13 & 14 again in beautiful Ventura, California. Book early for the Special pre-Games events--a Single Malt Whisky Tasting and our famous "A Scottish Evening" (music, food, fun & fashions)--a tradition on Games Friday, October 12. Please mark your calendar today!

The fourth annual Seaside Highland Games were successfully conducted over the weekend of October 13, 14 & 15, 2006 at the Ventura County Fairgrounds. While we are still putting finishing touches on financial and attendance tallies, it appears that we have enough to pay our bills--and a little more--and that more people than ever came to this year's Festival. Attendance appears to be somewhere between 17,600 and 18,000--an amazing number either way!

There is no doubt that any success is due to the cooperation and hard work of so many that we cannot even count. Of course, there is a core of amazing volunteers that we shudder to think of doing without and I will even share some of those names in days ahead--they so deserve the credit they've earned.

I don't know that we set any world records in our competitive areas but came very close in ladies athletics when Summer Pierson nearly cleared the bar with a great effort in sheaf toss. Keep an eye on this young lady to see her surpass about anything we've seen! My prediction!

Each venue seemed full to overflowing as I made my way around the grounds--a sight that brought me great joy. If you came and were less than happy, let us know. You can also tell us about the things you DID like, too. That way, we'll know how to plan for 2007. Oh yes, those plans are very much underway, as you know. Please plan on lending your support to continuing a Scottish Festival we can all be proud of. Thanks to each one of you.

Chief John Lowry
Aye,
Chief John Lowry
(Top)